There is a reason why I haven't post anything earlier. I have been busy. During Monday and Tuesday I wrote five pages about developmental psychology. It was not interesting, believe me. I had this book from 1997 and it was so boring and difficult to understand. And yesterday I was very tired of this hard work that I just slept when I got home from school.
So I start this update talking about what I did when I was in
Viiala
last week. I sewed some simple Barbie clothes for my niece. I kinda love doing them because I can
design
clothes and then make them happen. Last time I sewed a
gorgeous
princess dress, but this time I made more everyday clothes. Then I visited numerous flea markets, and I found some nice scarfs: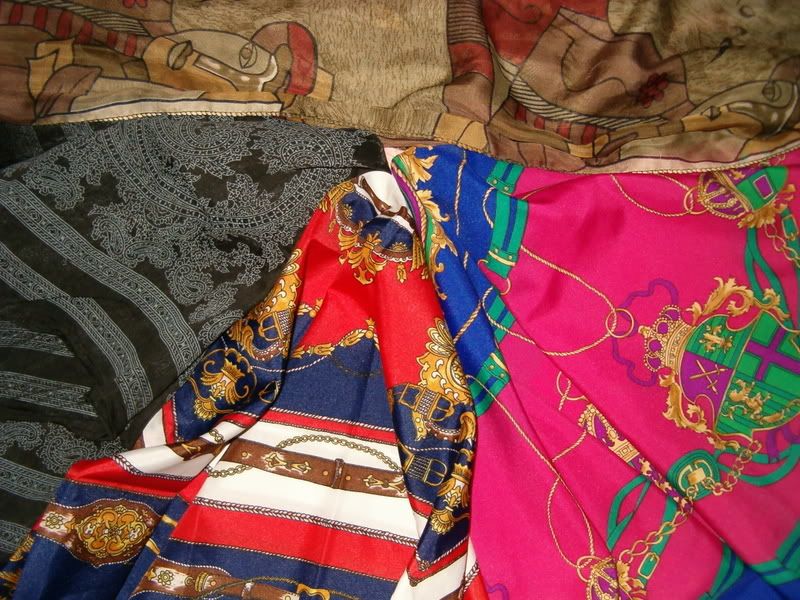 I think these two have a bit of a
Hermés
style.
Aleksi
came on Thursday and we played The
African
Star like all the time because there was no better thing to do. It was a lot of fun though. His birthday was on Friday and I gave him
following
presents:
Fazer
Ögon
cacao powder (so we don't always have to go to Robert's Coffee for Hot Chocolate),
marshmallows
so we could roast them, The Body Shop's Peppermint Foot Spray and Adidas
shinguards
. He was very pleased.
Even though I was really tired yesterday, we went to
Ikea
. It was pretty much ex
tempore
trip for no reason. But we bought a nice lamp to light our desk. It was pretty cheap too since it cost only 9.95 euros + the lamp. We also bought a plastic jug. So it was a very productive trip indeed.
Hello Kitty figure does not include. I really like that I can move the direction of the light so I can light the desk or my keyboard.
I'm quite sad that
Everwood
is coming to an end. There is only a couple of episodes to see. And I'm like in love with that show. Thursdays are not Thursdays without
Everwood
anymore. There will be just a huge hole.